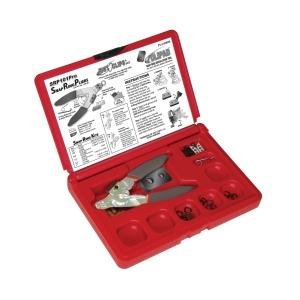 Just Clips Deluxe Tool Kit (JSCJCDTK1) is a complete tool set to remove, clean, and replace clips and o-rings. A tool box has lots of space for replacement parts, not to mention that tools are placed neatly inside the box. Including 3 sets of ½" replacement parts, 2 sets of ⅜" replacement parts and 1 set of ¼" replacement parts in addition to the Pliers, Clipad and O-ring Removal Hook. The tool kit is designed to use easily and safely and save your time, you will be able to replace them in less than a minute.
Including everything you need to install for yourself
Made in USA
Original Snap Ring Pliers for 1/4″, 3/8″,and 1/2″ Impact wrenches
Clipad cleans groove to make installation easy
Multiple Sizes of Replacement Metal Rings and Rubber O-rings
MPN: JCDTK1
ASIN: B007ZOMLLU
Click here to find the best price of Just Clips Deluxe Tool kit.